7/5€ | 42 rue Kuhlmann | M° Porte des Postes ou Wazemmes
dans le cadre de Jazz en Scènes
---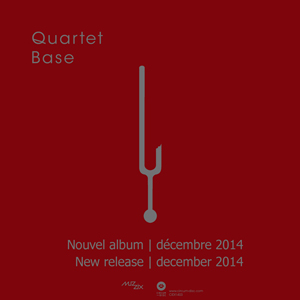 Quartet Base is a long-lasting formation. For 15 years now, Sebastien Beaumont has been writing a music that relies on the rapport of trust set in between the musicians. Based on the inmost, this new repertoire releases a deep, tensed, but sometimes funny and mischievous proposition. Texts, melodies, climates and sound memories are so much materials to a narrative and expressionist music. Christian Pruvost joins the band in 2014.
New repertoire !
Photo : Eric Flogny / Aleph
---
Blowing Thrill
Blowing Thrill est un groupe de jazz moderne créé en 2012 à l'initiative des saxophonistes Elie Dalibert et Gweltaz Hervé, rejoints ensuite par Emeric Chevalier à la basse et Fabrice L'Houtelier à la batterie. Influencé par la scène New-Yorkaise mélangeant à la fois jazz moderne et musique contemporaine, le groupe transmet une énergie singulière dans des compositions personnelles, en mélangeant improvisation et écriture précise, simple de forme et complexe de jeu. L'absence d'instrument harmonique accentue encore cette notion d'énergie, la tension ne provenant ainsi que du jeu rythmique et du son. La recherche est omniprésente au sein du groupe, toujours à la poursuite du sincère, du vrai, par une large part à l'improvisation sans fioriture ni limite, une recherche de son au traitement actuel dans une quête de bulle sonore toujours plus envoûtante.
Enfin, la musique de Blowing Thrill se veut dansante, certains la qualifieront même de « tribale », voire « épileptique » ; de cette danse qui vient du sol, qui vous transporte dans son flux, qui vous met en transe.
Elie Dalibert : saxophone alto
Gweltaz Herve : saxophone alto
Emeric Chevalier : basse
Fabrice L'Houtelier : batterie