3€* | 42 rue Kuhlmann | M° Porte des Postes ou Wazemmes
Une date Muzzix & associés
---
En 2015, Muzzix vous donne rendez-vous chaque lundi soir ou presque à la malterie ! Tout au long de l'année, plusieurs formations du collectif se produiront en alternance et expérimenteront en direct, en invitant parfois d'autres musiciens.
---
Random Record
David Bausseron (guitar), Nicolas Chachignot (drums)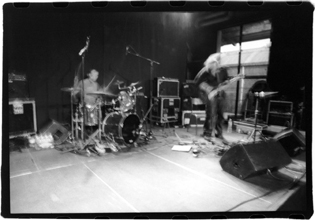 .
"Some rock ! Some rock !" sure, but free rock carried by the spirit of noise music.
Let the vagueness so dear to our particles fully play its part, together with stepped-up sambas and fuzz in series.
randon record / les disques du faubourg by murmur music
Random Record-jimi love by murmur music
---
Photos : Philippe Lenglet
*L'entrée à la malterie est soumise à une adhésion d'1€/saison, à prendre sur place le soir du concert.