---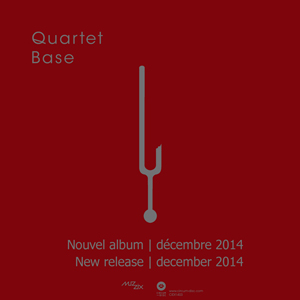 Quartet Base = 5 musicians !
Quartet Base is a long-lasting formation. For 15 years now, Sebastien Beaumont has been writing a music that relies on the rapport of trust set in between the musicians. Based on the inmost, this new repertoire releases a deep, tensed, but sometimes funny and mischievous proposition. Texts, melodies, climates and sound memories are so much materials to a narrative and expressionist music. Christian Pruvost joins the band in 2014.
Sébastien Beaumont (guitar, composition)
Nicolas Mahieux (double bass)
Christophe "Pher" Motury (trumpet, voice)
Peter Orins (drums)
Christian Pruvost (trumpet, saxhorn)
New repertoire
New album in december 2014 !
---
Photo © Eric Flogny / Aleph